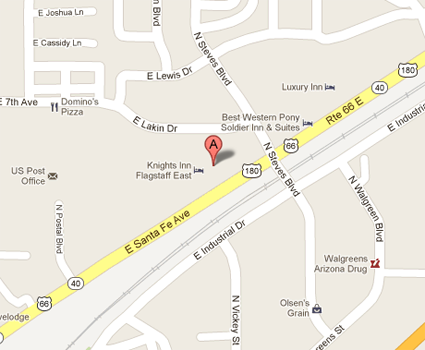 View Larger Map
Flagstaff 4x4 is located at:
2614 N Steves Blvd
Flagstaff, AZ 86004
(928) 526-0640
Accu-brake is located at:
2920 E Route 66
Flagstaff, AZ 86004
(928) 527-0270
Yes! We Work on That
We service domestics, imports, diesels, and most R.Vs. In fact, we provide services that most other shops don't, including welding and fabrication, driveline services and gear work (differential rebuilding, etc.)
Where Are We
Accu-Brake is conveniently located on East Route 66 in between Steves and Postal Blvd right next to Miz Zips restaurant.
Who We Are
Accu-Brake and Flagstaff 4x4 have been locally owned, family operated businesses since the 1980's. The current owners, Jim and John Stalker, purchased Accu-Brake from a local owner in 1994, and did the same with Flagstaff 4x4 in 1996 when the businesses were merged at the current 2920 E. Route 66 location.
NAPA Auto Care Center
Accu-Brake is an authorized NAPA Auto Care Center. What does this mean? When you bring your vehicle to be serviced at Accu-Brake we offer you our "Peace of Mind" Nationwide Limited Warranty. This is a 12 months/12,000 mile limited warranty that covers all applicable parts and labor costs. To read more click here
Factory Recommended Maintenence

We have on-line access to all the factory recommended maintenance schedules and procedures for your car or truck. This allows you to keep your warranty in force and ensure that your car or truck remains reliable throughout your ownership of the vehicle – and saves you money over going to the dealer for these services!
Additionally, we can check for "Technical Service Bulletins" on your vehicle that might help you head-off a known issue and/or more costly repair down the road.
Diagnostic Services

Our diagnostic services range from tracking down that annoying "squeak" or "clunk" to diagnosing "check engine" warning lights. We also provide electrical, transmission and engine performance diagnostic services as well. We have most of the latest scan tools, diagnostic equipment and information management resources to do the job right.
Engines and Transmissions

These are usually the most expensive drive-train components on any vehicle, so understanding their proper operation is critical to avoiding expensive, unnecessary repairs or replacement. Our trained technicians can handle everything from minor maintenance and repair services like tune-ups and transmission flushes, all the way to rebuilding or replacing your engine or transmission, if necessary.
Our Facility

Conveniently located on East Route 66, we have 10 service bays to accommodate you, a clean, well-lit waiting area with coffee, recent magazines, and wireless internet access. If you are at our facility during the diagnostic or repair procedure, we will gladly take you into the shop and show or demonstrate any damaged or non-working parts or systems as is practical. We can usually serve you best by appointment, but drop-ins are accommodated to the best of our ability. Usually one or two day's lead-time is enough to schedule an appointment, and in most cases we can offer you complimentary shuttle service to work or home.